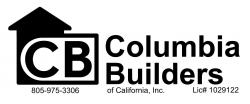 Construction Superintendent
2023-03-24 Columbia Builders of CA, Inc. 825 Riverside Ave #2 $40 and up hour
Description:
Construction Superintendent –
We are looking for a construction superintendent who is self-motivated and detail oriented.  We are a small construction company, so the daily duties and responsibilities will cross many traditional positions.  You will be working directly with the owner of the company and senior project management.   
Project Superintendent Duties
Safety First! - Safety oversight and enforcement
Overall project coordination, scheduling, documentation, quality, and safety for all aspects of assigned projects – PLAN, PLAN, PLAN, SCHEDULE, SCHEDULE, SCHEDULE !!!
Coordination of subcontractors - PLAN, PLAN, PLAN, SCHEDULE, SCHEDULE, SCHEDULE !!!
Coordination with project owners
Attend job walks, meet with clients, and scope projects with subcontractors
Project quality control and quality assurance
Create and distribute short interval schedules
Job site management and cleaning
Daily reports or logs of activities
Review of project submittals and coordination with in place work.
Perform various labor tasks when needed.
Qualifications and Skills:
Have previous experience as a project superintendent, project manager, or other construction related job.
Willingness to be trained and learn.
Must be proficient in Microsoft products, such as Word, Excel, but maybe also Projects or Powerpoint.
Have some familiarity with any of the construction management software out there – Prolog, Procore, or other is a plus.
Be familiar with Bluebeam and/or Adobe products
Be able to prioritize and organize tasks and take them to completion.
Work independently as well as within a team.
Have a sense of urgency to get things done.
Salary and Compensation
Daily work duties may be anywhere in SLO or Santa Barbara counties.
It is a full-time position.
Compensation is either salary or hourly, depending on the person.
The rate of compensation will start at $40/ hour (or salary) and up depending on your skill level.
We offer sick, vacation, and holiday pay.
You may join the 401k after 1 year of employment.
A company vehicle, gas card, and credit card are possible benefits of this position.
We do not offer any health insurance benefits of any kind.
Submit resume to Tom Ehlers @ tom@columbiabuild.com
Do not contact this company in solicitation of any product or service.