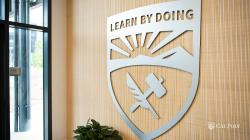 Cook, Cal Poly Campus Dining
2023-02-17 Cal Poly Corporation 1 Grand Ave, San Luis Obispo, CA $15.78-$23.67 Sign On Bonus: $500
Description:
Under the direction of the Sous Chef and/or Unit Supervisor, prepare, cook, set up and back up the food line. Participate in the training of students, ordering of supplies and the maintenance of records and equipment.
• Prepare meals and meal items as required to ensure customer dining satisfaction by following and maintaining standardized recipes using approved procedures and common kitchen equipment as listed below to produce the highest quality product while preventing waste
• Provide training to workers in methods of performing duties assigned and coordinate work of employees to promote efficient operations
• Establish and maintain effective working relationships with others both in the kitchen and other staff to ensure good communications and enhance "team" effort
• Maintain a safe and sanitary kitchen following prescribed safety and sanitation procedures to ensure compliance with health regulations and safety standards
• Report any equipment malfunction through prescribed procedures to minimize loss of production efficiency due to equipment failure
• Perform other duties as requested by Sous Chef/Unit Supervisor
• Receive & oversee prompt & proper storage of incoming supplies
• Order supplies and food items needed with the EATEC ordering software to ensure adequate quality production as directed
• May perform duties of Sous Chef during absence of Sous Chef, as directed
• Plate and serve food items as required using standard line service tools while adhering to proper portion control and presentation procedures to enhance customer service and satisfaction
• Transport food items by Cal Poly Corporation vehicle for barbecues, catered banquets and other offsite-catered events
• Directly supervise student and intermittent employees
• Carry out supervisory responsibilities in accordance with Corporation's policies and applicable laws and regulations
• Supervise the daily activities of the department, including but not limited to, effective delegation of assignments, training and resources necessary to meet performance standards and assist employees in improving performance relevant to job requirements
• Develop and implement an effective performance and department goals and objectives, provide performance evaluations, and implement appropriate counseling
• Direct and monitor employees to ensure that they remain in compliance with policies and procedures
• Subordinates may include: student and intermittent employees
• Perform other duties assigned
https://jobs.calpoly.edu/en-us/listing/
Do not contact this company in solicitation of any product or service.