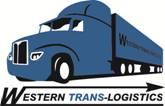 Assistant Logistics Coordinator
2019-12-13 Western Trans Logistics 1303 E. Grand Ave., Ste. 211
Description:
Western Trans Logistics is seeking a full time Assistant Logistics Coordinator to join our team. We are seeking an individual with excellent customer service and organization skills, the ability to multitask and work well under pressure in a fast-paced office environment. Dispatching experience is desired, however we will train the right person.

Summary

Primary duties include coordinating and scheduling carriers on an order by order basis while providing the highest level of customer service and communication to our clients.
 
Responsibilities

• Scheduling and dispatching carriers.
• Answering incoming calls, responding to company and customer e-mails.
• Following up with customers to answer questions and schedule work.
• Writing letters and creating forms.
• Scan, e-mail, file forms and paperwork.
• Data entry of work orders into our dispatching system and updating information as needed.
• Following up with our carriers to ensure work is on track to be completed on time.
• Perform administrative duties assigned by management.

Skills and Abilities

• Punctual and reliable.
• Strong organizational, decision making and problem-solving skills.
• Strong communication skills, must be comfortable with a high volume of phone calls and messages.
• Project a positive, professional demeanor and be a team player.
• Ability to work with different personalities.
• Computer literate (Word, Excel, and Outlook).
• Bilingual in Spanish is a plus.

Work Schedule

Monday – Friday, 7:00 AM – 3:30 PM

Our employment package includes competitive wages, holidays, and employer paid medical, dental, vision and life insurance.

Please reply to this post with your cover letter and resume. No phone calls please.
Do not contact this company in solicitation of any product or service.